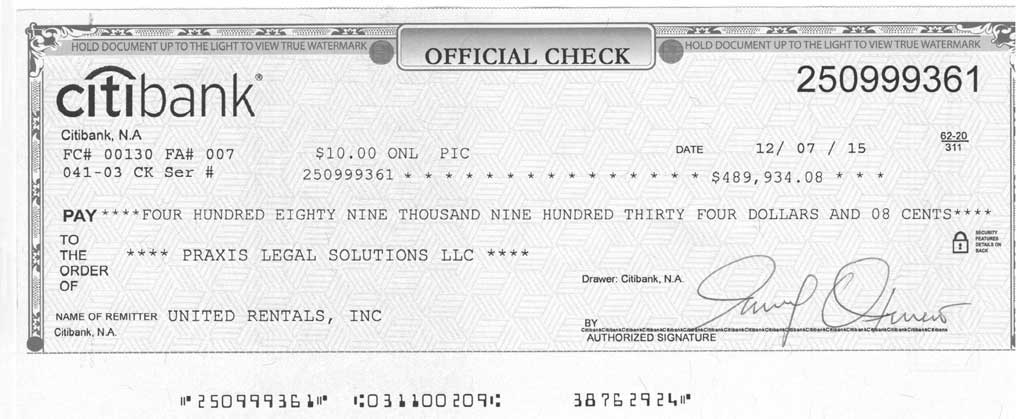 A recent edition of The New York Times explored the psychology of the con; the character traits that make us susceptible to con artists. It's not greed, although that often plays a part. A bigger factor is the desire to trust and be trusted.
Almost as if on cue, an email popped into my in-box from a Swedish company seeking legal representation in the sale of a piece of heavy equipment. I've done those deals, so I sent an engagement letter that was duly signed and returned, together with a note that I should expect to be contacted by a representative of the buyer, United Rentals, Inc.; that the buyer would pay a deposit equal to 24% of the purchase price, pending an inspection of the equipment; that my fees should be deducted from the deposit, and that I should advise my client when I heard from United Rentals.
So far; so good.
A few days later, I received an express mail envelope containing a letter of intent, and a bank check in the amount of $489,964.08, which was precisely 24% of the purchase price, and was drawn on CitiBank, with United Rentals, Inc. as the remitter. I notified the seller, who asked me to confirm deposit of the check. To say that the check was a red flag is a titanic understatement. No buyer; certainly, no sane buyer, parts with a dime until he or she has a signed agreement in hand.
I called United Rentals, and while I was waiting for a return call, went to my bank, to see if Citi would confirm availability of funds. Citi does not do that, so I decided to deposit the check to see if it would clear. On second thought, that did not seem such a good idea, so I cancelled the transaction, but retained the receipt generated before the transaction was cancelled.
Hoax Confirmed
The return call from United Rentals' legal department confirmed my guess that the whole thing was a hoax. Having received similar calls, United Rentals had already contacted the Justice Department, and advised me to report the incident to the Internet Crime Complaint Center ("ic-3").
I filed my complaint, and decided to see what would happen if I followed the seller's instruction to confirm the deposit. I emailed a scan of the deposit receipt, and in no time at all, received a return email with detailed instructions for wiring money to banks in Bangkok and Phnom Penh, and to deduct my fee from the deposit. A red flag as big as all outdoors.
Bangkok? Phnom Penh? Deduct my fee? The seller would not be entitled to payment until the transaction closed; taking a fee under these conditions would be a ticket to a disciplinary hearing. I added that last email to my file in case I get a follow-up call from the FBI.
Increasing and Evolving Cases of Internet Scams
The take-away? If it seems to be too good to be true, it probably is. Internet scams are increasing in volume and sophistication. Over the past few years, I've gotten dozens of email solicitations that bordered on the hilarious; they were so implausible. But this one was different. It focused on a type of transaction, asset sales and acquisitions, that is an actual part of my practice, and involved a plausible buyer and seller, not some putative heiress or African government official.
The details here also serve as useful reminders of two key provisions of any asset transaction:
Never, never, never turn over any funds, even to an escrow holder, until you have a signed agreement; and
The purchase and sale agreement for any transaction involving a deposit should clearly spell out the conditions under which a deposit can be forfeited or returned.