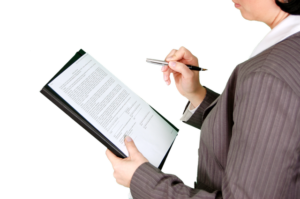 The purpose of a contract is to set down in writing the rights and obligations of the contracting parties.  What will they do or refrain from doing?  What is the time for performance?  What will each party exchange?  Are there conditions for performance?  What happens if one party or the other fails to perform?  What is the term of the contract?  May it be terminated? If yes, how and when?
The above are the basics.  Depending on the subject matter of a contract, the contract language may include representations and warranties, indemnities or provisions for the survival of certain contract terms beyond the term of the agreement.
All of this can get pretty complicated, especially when a contract is for a specialized purpose and includes what lawyers refer to as "defined terms"; words that mean precisely what the contract says they mean, and that can differ from what we think of as their ordinary meaning.  Unless you are familiar with the esoterica of contracts, you might find yourself with an understanding of your contract that is not shared by your counterparty, and that can mean trouble.
Consider:
A contract for the sale of goods or services provides that the buyer has 30 days to dispute the accuracy of an invoice.  If you fail to follow the requirements for effective notice; if the contract requires that notice must be in writing and sent by certified mail, phone calls and e-mails, no matter how numerous, will be ineffective as "notice".
Contracts for the sale of a business or of business assets should include, among others, representations and warranties by the seller as to the power and authority of the seller to enter into a contract; of title to the assets; that the assets are unencumbered, and that they are all of the assets needed for the continued operation of a business.  You're in trouble if the seller "forgets" to include a key piece of equipment, and there is no "used and useful" warranty in the contract.  In that case, your damages might be limited to the value of a "reasonable" substitute, as opposed to the item you saw when you inventoried the seller's assets.
Key terms in license agreements for the use of technology or other intellectual property, are the term of the license, the territory covered by the license and the fees payable to the licensor, as well as the medium in which the IP is expressed.  For example, if you want to license reproduction and sale of a photograph, you may want to limit the medium to one or more specific types.  If you don't want your photo appearing on a website, or in advertising material, the license agreement must be specific in describing those limitations.
The bottom line is that contracts are not always as straightforward as we'd like them to be, and review, and, if needed revision by a knowledgeable and experienced attorney can save you time, money and brain cells.